Vicki Moore Gored By Bull
at Spanish Blood Fiesta


In June 1995, during her ninth year of investigating and exposing Blood Fiestas, Vicki Moore was near fatally gored by a bull named 'Argentino', at the fiesta of San Juan, Coria, Spain.
Tossed into the air ten times, Vicki lay bleeding to death on the street for a full five minutes before the bull was able to be forced away from her. She sustained horrific injuries, eleven serious horn wounds and multiple lesser ones.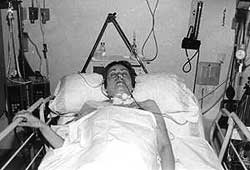 Vicki recovers consciousness after 4 weeks in a coma
These injuries included a punctured and torn lung, the loss of a kidney, eight shattered ribs, a completely smashed foot, many internal injuries, one leg nearly severed, plus twelve inch rips over her body and limbs.
A seven hour operation in Coria saved Vicki's life.
She remained in a coma and was on the critical list for nearly four weeks, at the regional hospital of San Pedro de Alcantara, Caceres.
After returning to England, Vicki began a painful recovery with further major surgery. She was confined to a wheelchair for six months.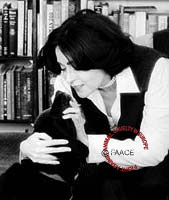 Vicki, with 'Susie', whilst convalescing
Although being far from fit, Vicki returned to Spain in July 1996 to carry on with her work.
She underwent further operations and, despite being in constant pain, Vicki continued to campaign for the Animals until her death on the 6th February 2000.