A Tribute to Vicki Moore - 'Animal Eyes' CD
Vicki Moore was to many the world's most famous champion of animal rights, saving Blackie and other donkeys, bulls and goats fromunspeakable deaths in many countries. What may come as a surprise to most people is that Vicki was also an accomplished singer. Now her husband Tony, who continues her work for the animals, releases a CD of her music.
In Madrid, in 1989, Vicki recorded a number of tracks for an album called "Animal Eyes" that was going to be released for the animals. Due to lack of marketing, her recordings were never properly released.
During research for Vicki's biography Tony realised that he did not have a proper recording, either of her singing voice or of the record itself.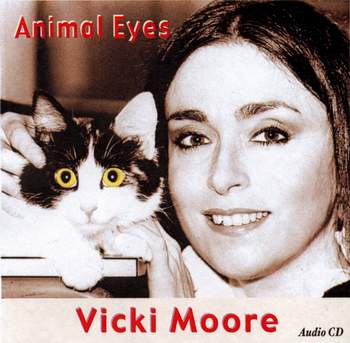 In a painstaking search, since most of the people involved had died, he managed to track down the original recordings in Catalonia. With great care he had them digitalised and remastered.
Miraculously a homemade demo tape was found with Tony accompaning Vicki on his guitar. It proved usable and he is proud to be united with her on this CD.
On the cover there is another member of the family: Little Alita, the kitten who sought refuge in Vicki's handbag from being abused in a fiesta in Spain in 1988.
Tony Moore says, "When we listened to the tape we realized that this was something special. Vicki sacrificed her career for the animals. This record is a tribute to her and I believe that the four tracks we selected will do her artistic side justice. I feel that the CD highlights Vicki's story and will hopefully inspire others to take up a commitment for animals or people."
Tony wants all profits from the CD to go towards the work of FAACE.


| | |
| --- | --- |
| Track listing: | |
| 1. Animal Eyes (Radio Mix) | 3:34 |
| 2. Don't It Make My Brown Eyes Blue | 3:06 |
| 3. Don't Cry Out Loud | 2:42 |
| 4. Animal Eyes (Classic Mix) | 3:34 |

Preview 'Animal Eyes'

Click to play

Lyrics by Georges Roos
Music by Gonzalo Lauret
To purchase please send:
Cheque, Postal Order or Cash: £5 for UK - £9 for Rest of the World to:
Animal Eyes
FAACE
29 Shakespeare Street
Southport
Merseyside
PR8 5AB
UK
or